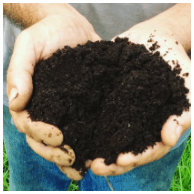 Volcano Art Center is pleased to offer another live stream online workshop that is perfect to participate in from the comfort of your home. Zach Mermel of Ola Design Group will teach the second in a series of virtual workshops, Secrets of the Soil: DIY Strategies for Soil Regeneration on Saturday, June 13, 2020, from 9am – 12pm.
How is soil formed? What organisms reside within it? What are the different soil types on Hawaii island? Ever wondered how to make compost that your plants will devour like dessert? Join us as we explore strategies for dramatically enhancing the life-giving properties of the soil. Topics covered will include: cover cropping in the tropics, rapid topsoil formation, the fundamentals of soil testing at the homestead and farm scale, as well as preparation of compost teas and biochar. An information packet of handouts and resources, including the Zoom PowerPoint slides, will be emailed to all participants.
The cost of this workshop is $35/$30 VAC Members. Those who register online through Volcano Art Center's website will be sent an email with instructions on how to join the live stream workshop online via Zoom.